Wait, no! Sorry! This is what I meant to write:"Gov. Cuomo pushes private business to close their doors to 'unvaccinated' people." My sincere apologies for getting that so wrong.
MCM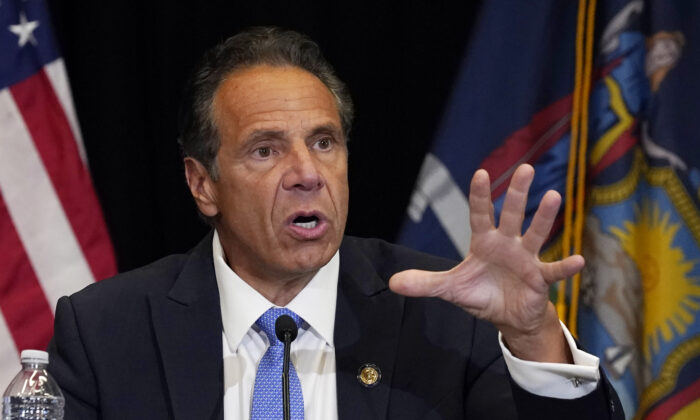 New York Gov. Andrew Cuomo speaks during a news conference at New York's Yankee Stadium on July 26, 2021. (AP Photo/Richard Drew)

NY NEWS
Cuomo Pushes Private Businesses to Mandate 'Vaccine-Only' Admission

https://www.theepochtimes.com/mkt_breakingnews/cuomo-pushes-private-businesses-to-mandate-vaccine-only-admission_3929683.html

BY JACK PHILLIPS

New York Gov. Andrew Cuomo on Monday urged private businesses to institute "vaccine-only" admission in order to incentivize getting vaccinated against COVID-19.
"Private businesses, bars, restaurants: go to a vaccine-only admission. … I believe it's in your business interest to run a vaccine-only establishment," he added, without elaborating.
The governor then suggested those businesses use New York state's "Excelsior" app that essentially serves as a vaccine passport system.
"We have passes. They're on apps, they're on phones, it's very simple. You can operate a restaurant, just say, 'You have to show you're vaccinated when you walk in the door.' It's going to help your business, not hurt it," Cuomo said.
Some businesses in New York City—including Broadway shows, Carnegie Hall, and a higher-end restaurant group—announced they would mandate customers to show whether they're vaccinated against COVID-19. The founder of Shake Shack, Danny Meyer, told media outlets last week that his Union Square Hospitality Group will require indoor drinkers and diners to show they've been vaccinated.
"We did this—Radio City Music Hall—months ago. Reopened, vaccine only. Sold out all the shows. Sports arenas, they went up to about 90 percent vaccine only," Cuomo added.
It's not clear if Cuomo was suggesting that supermarkets or stores that sell food and other essential items should require people to require "vaccine-only" admission in the state. The Epoch Times has contacted Cuomo's office for additional comment.
Click on the link for the rest.
---