What Cop T-Shirts Tell Us About Police Culture
Posted: 06/21/2013 3:00 pm EDT  |  Updated: 06/22/2013 10:55 pm EDT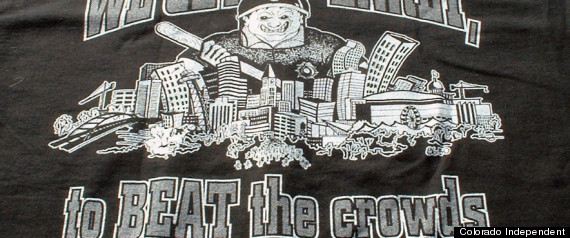 Earlier this week
, an anonymous public defender sent Gothamist this photo of an NYPD warrant squad officer wearing a t-shirt with a pretty disturbing quote from Ernest Hemingway: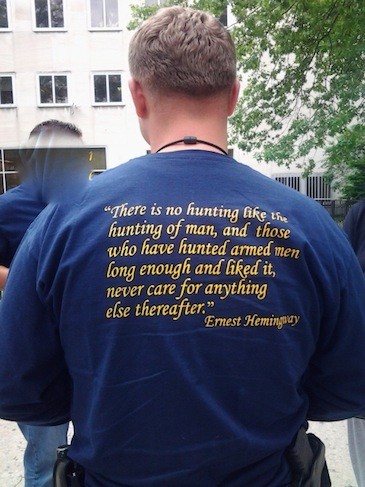 The Village Voice reports that the quote was also printed on t-shirts worn by NYPD's infamous Street Crimes Unit, which was disbanded after shooting unarmed immigrant Amadou Diallo 41 times in 1999 as Diallo reached for his wallet. The Voice also reports that at least two NYPD police commissioners have used the phrase "hunter of men" to describe police work — Bernard Kerik and Howard Safir.
One Comment to "If their t-shirts tell us anything, it's that a lot of cops aren't very good Americans"
Forbidden Bookshelf
"While We Were Sleeping"
While We Were Sleeping is an urgent call to save Greenwich Village from New York University's uncontrolled expansion.
Click here to donate to NYUFASP and receive a copy of "While We Were Sleeping: NYU and the Destruction of New York" (minimum donation to receive a book is $10 plus $8 shipping).
Orwell Rolls In His Grave, featuring MCM – Buy the DVD
About News From Underground
News From Underground is a daily e-news service run by Mark Crispin Miller, a Professor of Culture and Communication at NYU. It is based on his belief that academics, like reporters, have a civic obligation to help keep the people well-informed, so that American democracy might finally work.
If you'd like to receive updates delivered to your inbox daily, sign up for News From Underground Alerts:
Help News From Underground!






Message from Mark: "I am a one-man operation, although assisted greatly by some volunteers, and, now and then, by people paid by others for one-time projects. There is no shortage of skilled, dedicated folks out there who want to help me. There is, however, nothing I can pay them with, unless you decide you can contribute something."

Please donate via the PayPal button above or via PayPal by email to: markcrispinmiller@gmail.com


Recent Posts
Recent Comments
Popular Posts
Blogroll
Need a bigger font size?
Sponsored Links
Your link could be here too, contact us for pricing details.